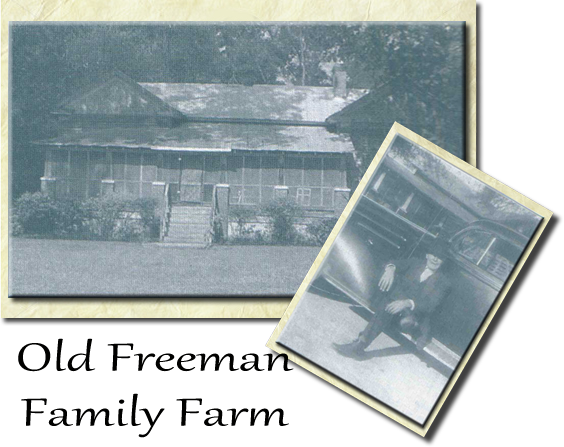 Sitting in the middle of a 30 acre pecan orchard at 566 Scarboro Highway is the home of the late Marion Franklin Freeman, Sr. and Effie Lee Freeman. Marion's father, John Wesley Freeman, was the original owner of the Freeman Family Farm. He purchased 400 acres of land in Screven County on September 12, 1893 for $1957.41 – only $4.89 per acre. He farmed the land until January 24, 1903, when he handed it over to his sons, Charlton and Marion.

Soon after their marriage on April 22, 1906, Marion and Effie moved into the house where they raised their family of 3 girls and 3 boys: Lula Mae, Bridie, Grace, Wesley, Lee Parker and Marion Franklin (M.F.), Jr. One of the largest farmers in the area, Marion employed about 15 men and their families, all of which lived on the place. He owned 25 mules and grew cotton, tobacco, corn, peanuts, pea vine hay, velvet beans and oats. In 1924, he planted 30 acres of the farm in pecan trees. Marion operated a cotton gin, commissary and sold ice from the ice house. There was a windmill, a generator house for making electricity, and a smoke house where meat was cured for the family and farm laborers. At the time of his death, Marion owned approximately 2000 acres of land, much of which is still owned by Freeman decendents.

When M. F., Jr. was 17 years old, he joined the Navy to serve his country during WWII. After returning home following the war, he worked with his father on the farm and continued what Mr. Marion had begun; however, he farmed the land with tractors instead of mules. His first tractor was an "H" model Farmall, which is still on the farm today. In the early 1960's the windmill, no longer in use, was sold to W. W. "Shorty" Wyant. He used the tower to build gates on his farm, but saved the windmill, which is back on the farm today.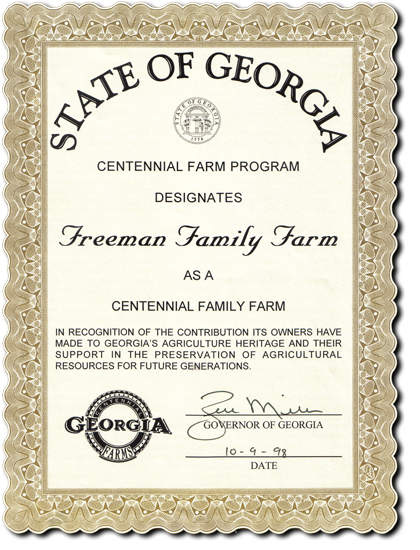 Marion Freeman passed away on New Year's Day, 1949. Following his death, the home place was deeded to M. F., Jr. He and his wife, Kathene, whom he married on December 1, 1946, moved into the house in November of 1951. Here they raised 4 children: Mary, Franklin, Glenn and Becky.

M. F. farmed the land until his death on November 21, 1965. Kathene, who was only 37 years old at the time, was left with quite a responsibility of raising 4 children. To supplement her income, she rented the farm to a relative, who farmed it until 1975.

Becky, the youngest of Kathene and M. F.'s children, was only 11 years old when her father passed away. On April 29, 1973, she married Danny Anderson, who grew up on a farm in Bulloch County. Danny had a love for the land and wanted to farm, so they moved back to Cooperville in 1975 and he began farming in January 1976. That same year on December 10th, their first child, Benjamin Daniel, was born.

Because M. F. died without a will and 3 of the children were minors, the land remained the M. F. Freeman, Jr. Estate until October 1976, when 1.3 acres was deeded to Franklin in order to build a home. In 1978, the land was surveyed and divided into 5 equally valued parcels. Becky chose parcel 3 and she and Danny built a log house on the farm. In March 1979, Mary and Glenn decided to sell their parcels, and Danny and Becky purchased their acreage.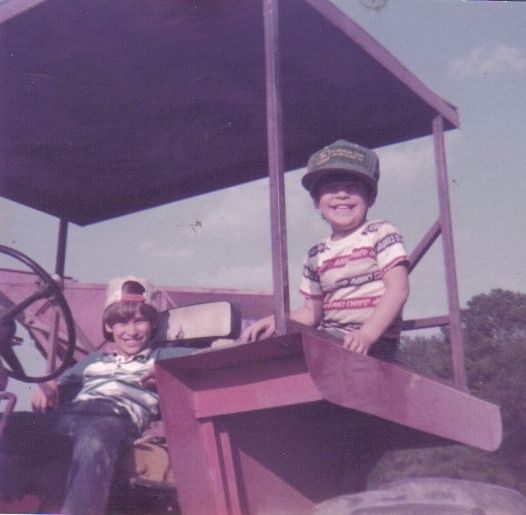 On July 10, 1980, Danny and Becky welcomed their second son, William Garrett. He and Benji grew up loving the farm life and enjoyed helping with the chores. At an early age, they learned to drive tractors, playing an intricate role in their father's farming operation. It was no surprise that both were active in 4-H and FFA, where they showed livestock, competed on Livestock Judging teams, and participated in 4-H project achievement on the state level.

Kathene Freeman's death on September 19, 2002, closed the chapter on that generation of Freemans. It also opened the door for another member of the Freeman family to purchase a piece of the Freeman Farm. Michael Freeman, Glenn's son, and his wife Janet, purchased the family home, where they lived for 8 years. At this time, Danny and Becky purchased the balance of the 28.5 acres that had been home to Kathene for the past 51 years. Through a series of purchases, Danny and Becky now own the farm, excluding one acre which was deeded to Benji and Garrett in 2003, to build a house at the pond.

We are very proud of our heritage and the history of the Freeman Family Farm, which was named a Centennial Family Farm in 1998, having been owned and operated by the Freeman family for 5 generations. We have fond memories of growing up here and the wonderful way of life the farm provides. We would like to share those memories and invite you to come spend some time with us. We hope to see you soon at Old Freeman Family Farm.